Make it easier to transport your rolls, tubes, reels and coils
Transporting equipment involves very specific logistics, in order to limit the risk of damage. Today we
draw your attention to the transport of rolls, tubes, reels and coils, requiring the use of a perfectly adapted packaging solution, such as paperboard honeycomb solutions.
Specially designed for wedging and packaging your rolls, they provide you with optimal protection. Estic-Maillot presents here this ecological material, with many advantages.
Stretch film roll : The varied use of paperboard honeycomb
Packaging made from paper honeycomb, also called honeycomb cardboard, is recommended for packaging stretch films. The die-cut spacer sheet, also called intercalary sheet or layer sheets, provide cushioning for optimal protection during transport and storage.
Honeycomb is also used to protect many other products that have a shape of roll, reel, tube or coil : 
Reels of standard or special paper (such as bank paper)
Aluminum rolls
Carbon rollers
The coopers
The tubes
Rolls of stretch film
Textile reels (spinning mills)
The honeycomb interlayer panel is particularly suitable for transporting rolls of stretch film. Made from recycled and recyclable paper, fiberboard honeycomb offers many advantages, which we will detail below.
The advantages of paper honeycomb for packaging your rolls, tubes and reels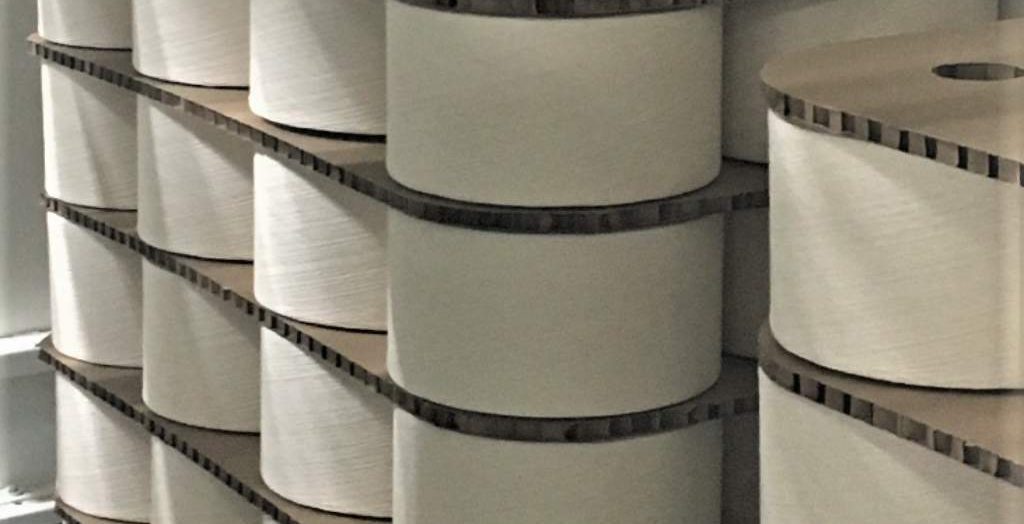 Honeycomb cardboard has many advantages over other packaging materials for packaging rolls, tubes and reels. It is an ecological substitute for polystyrene or foams which are materials derived from petroleum. It also replaces linen or wood whose surface condition has roughness which can scratch or mark the reels.
The advantages of the honeycomb are therefore numerous
Reduced risk of accidents at work and musculoskeletal disorders thanks to the low weight of the
honeycomb, the absence of nails and staples.

Low tooling cost compared to other materials

Ease of sorting and recycling at the end customer's premises

Lighter loads leading to a reduction in CO2 emissions from transport

Very little dust

Ease of implementation (possibility of gluing with hotmelt instead of nailing)
In conclusion, honeycomb cardboard is a material that meets CSR criteria: compliance with TMS, less carbon emissions during transport, recycled and recyclable product.
The different fiberboard honeycomb solutions offered for the transport of rolls, tubes and reels :
Several solutions are recommended for the transport of rolls, tubes and reels. First of all, you will find single and double cradles, which can accommodate one to five reels lying down depending on the diameters. In certain cases, wooden reinforcements may be added. Then there are triangular wedges, preventing the reels from "rolling" on the pallet floor during transport. Finally, you will have the possibility of securing your rolls with die-cut sheets, serving as spacers.
In this case the coils and rollers are then placed vertically and their mandrel is housed in the holes in the board, which allows the material to remain perfectly stable, in all circumstances.
Discover the products signed Estic-Maillot
Estic-Maillot offers you solutions adapted to the needs of your company and your activity. Concerning the transport of your rolls, reels, tubes and coils, such as stretch film for example, tailor- made solutions are offered to you, in order to guarantee risk-free transport, which will preserve the product intact.
As for honeycomb cardboard, the latter, ultra-light and without nails or splinters, considerably reduces the risk of workplace accidents, thus improving the working conditions of employees. Furthermore, it is one of the easiest products to use and easy for the customer to sort when they unpack their goods.