Its benefits are manifold.
It is a natural, biodegradable and recyclable material most commonly made from recycled fibers.
Both lightweight and strong, it is a prime choice material for the manufacturing of boxes, cases and crates to package goods.
Corrugated board can be printed using the following processes:
Offset: decorative graphics are printed on the liner board by way of offset lithography which is then laminated onto the single face or another backing board.
Flexography: this process enables printing directly onto the corrugated board without damaging its mechanical integrity. More especially, this process can be used to print the interior of boxes or cases.Ink
jet digital printing: this process prints directly onto the corrugated board, and is preferred for small production runs. This very flexible technology allows for highly customized printing.
The various profiles of corrugated boards
The main flutes available are the following:
F-flute, also known as "minimicro" is approximately 1.2mm thick, and is used for small size boxes.
B-flute is used for much larger boxes and heavier products. Its thickness of around 3mm provides it with a great rigidity.
E-flute, or "micro", with a thickness of around 1.7mm. Given its many advantages, the E-flute is the most widely used profile of corrugated board. It is the best compromise between rigidity, and aesthetics while optimizing shipping.
The most common grades of corrugated boards used in the manufacturing of packaging containers are made up of 3 papers (called single wall) or 5 papers (called double wall).
A single wall sheet is made up of a corrugated or "fluted" material in the center, placed between two layers of paper – the top or outer and bottom or inner liners or facings.
All grades of paper can be combined to make the corrugated board.
Recycled grades:

Recycled paper or medium is often used for low-weight fluting
Recycled linerboard grades can also be used, more especially for the facings.
Recycled paper can be uncoated plain (brown) or white as well as clay-coated white.

Kraft or virgin paper grades are usually perceived as more enhancing, natural and resistant than recycled paper. These grades can be plain (brown) or white in the uncoated version, or clay-coated white.
First introduced in 1871, the corrugated board is now widely used in transportation, protection, damage prevention and as a way to enhance the features of products.
By way of printing, the facings serve as a versatile medium to better market your product in addition to protecting the product from abrasion, puncture and shocks and any other aggression from the exterior environment. The flute provides rigidity, vertical compression strength and cushioning to the packaging container.
At SIETCAM, we specialize in the design and manufacturing of boxes, cases and displays, also known as POP and POS.
We service a wide range of industries, including the wine and spirits, cosmetics and skincare, equipment, household appliances and many others.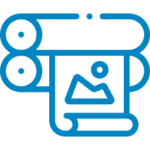 We offer custom-made packaging as well as large format 6 colors printing with coating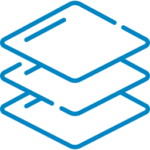 SINGLE WALL AND DOUBLE WALL
We carry a wide array of single flutes (E,F, B) and double flutes (EB,EC…)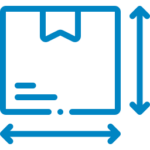 MULTIPLE PAPER BASIS WEIGHT AND GRADES
We propose extensive paper basis weight and grades
Our manufacturing facilities